Vintage Computing
486 PCI
Hardware:
Soyo 4SAW2 mainboard, 512 KByte L2 cache (WB), PS/2 mouse connector
AMD 5x86-133 @160MHz CPU (WB)
4x 16 MByte FPM RAM
PCI cards:

Dawicontrol DC-2975U SCSI
VIA USB 1.1
A-Trend Helios 3D (3dfx Voodoo, 4 MByte)
ATI All In Wonder Pro (8 MByte)

ISA cards:

Gravis Ultrasound Classic (1 MByte)
Creative Labs Sound Blaster AWE 32 CT2760 (8 MByte) with NEC XR385 MIDI wavetable
3Com 3c509b NIC (10 MBit/s with RJ45, BNC an AUI connectors)

Drives:

Maxtor 80 GByte PATA drive with Acard 7720U IDE2SCSI bridge
Pioneer DVD-303S SCSI DVD reader (slot in!)
Yamaha CDRW2100S SCSI CD burner
3.5 inch floppy
5.25 inch floppy
100 MByte SCSI Iomega ZIP drive
The board is a little bit slower than my Shuttle HOT-433 (especially with PCI throughput) but offers a PS/2 mouse connector (no need for a serial mouse!) and runs stable with 4 PCI cards. It also takes up to 256 MByte RAM, but no EDO, only FPM. As the cacheable area is 64 MByte and that's more than enough I'll keep it like it is. I also tried replacing the AMD 5x86 with a Cyrix 5x86-100, but the AMD chip is faster. And yes, a real SCSI harddisk would be faster, but also much louder. Anyway, that's a 486!

To my surprise the Voodoo card actually accelerates the system: GTA and Tomb Raider run smoothly.

The nice case was a gift from a colleage of mine. Thanks!
Software:
Windows 98SE with the built-in DOS. Linux also works but X11 is way too slow for anything.
Benchmarks:
PC Player Benchmark
Score: 133 MHz: 9.3, @160MHz: 11.3
System Speed Test: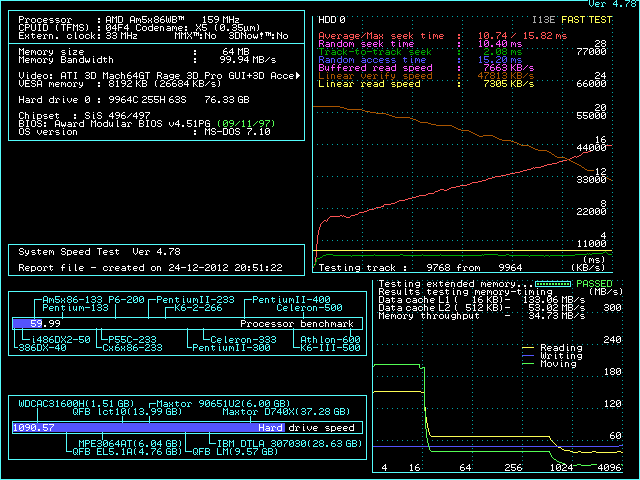 report file
Pictures: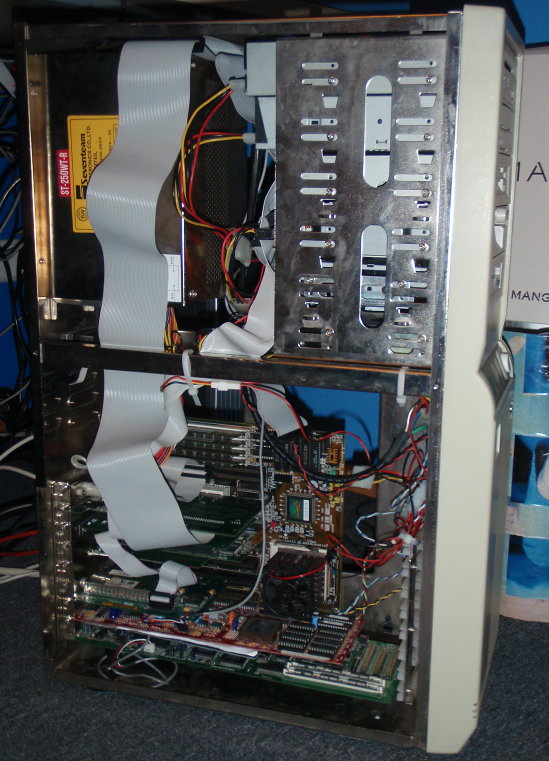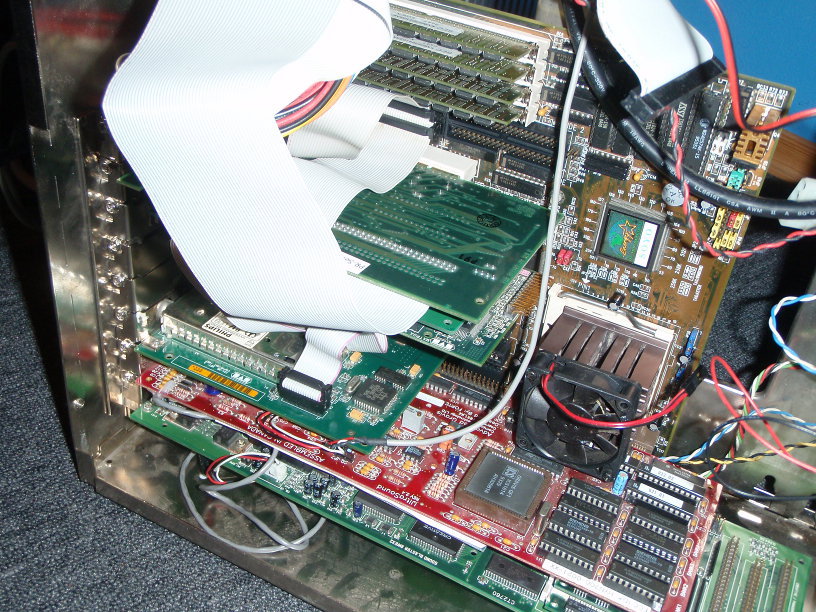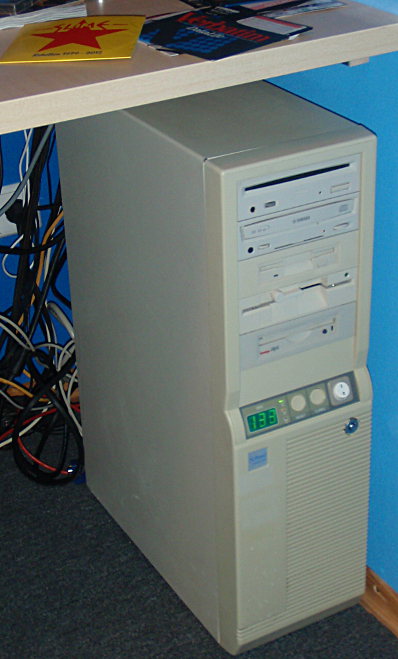 AMD K6-III+
Hardware:
Asus P5A-B mainboard (Baby AT)
AMD K6-III+ 450@550 MHz
3x 256 MByte SDRAM
AGP card: 3dfx Voodoo 3 5500 TV
PCI cards:

NEC USB 2.0
3Com 3C905 NIC
Atheros 802.11bg WiFi card

ISA card: Creative Labs Sound Blaster AWE 64
Drives:

160 GByte harddisk (Samsung SV1604N )
LG DVD reader
Plextor CD writer
3.5 inch floppy
Benchmarks:
PC Player Benchmark
Score: tbd
System Speed Test: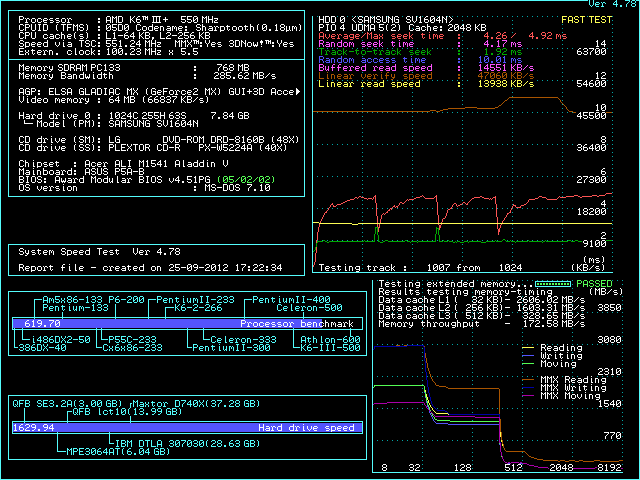 report file
Pictures: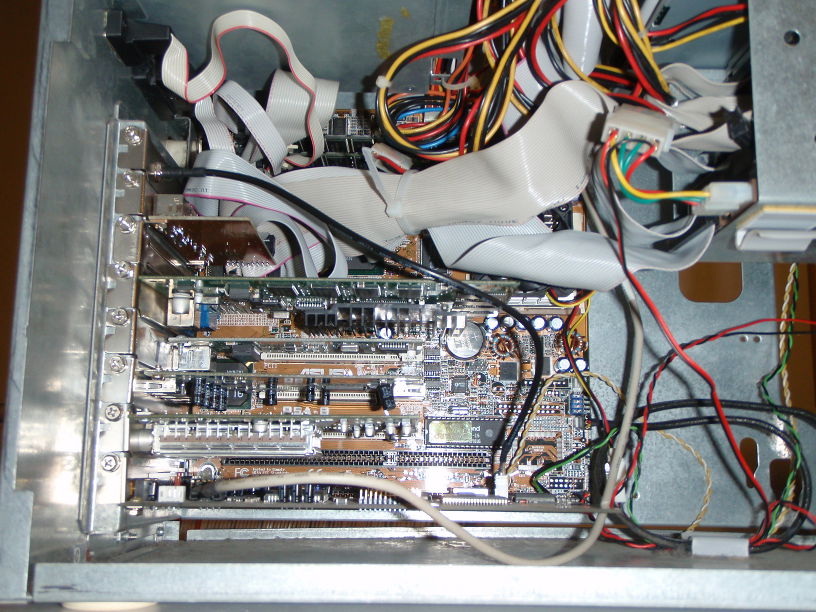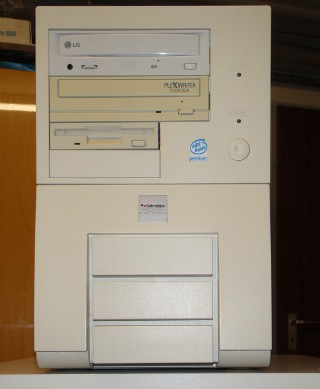 486 VLB
Hardware:
Asus VL-I-486SV2GX4 mainboard, 1024 KByte L2 cache (WB), PS/2 mouse connector
Cyrix 5x86 100 MHz (WT)
64 MByte FPM RAM
VLB cards:

IWILL SIDE (SCSI-2 and IDE controller plus multi I/O)
Diamond Stealth 64 Video VRAM (2 MByte)
FAST Movie Machine II with MPEG decoder and MJPEG encoder addons

ISA cards:

Terratec Maestro 32/96
3Com 3c515 NIC
FAST Movie Machine II with MPEG decoder and MJPEG encoder modules
Teles S0/AB ISDN

Drives:

2 GByte IDE CF card (Transcend)
Plextor SCSI CD writer
3.5 inch floppy
Benchmarks:
PC Player Benchmark
Score: tbd
System Speed Test: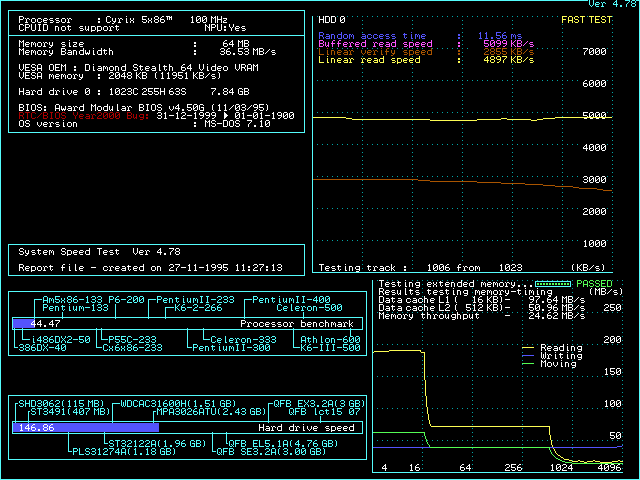 report file
Pictures: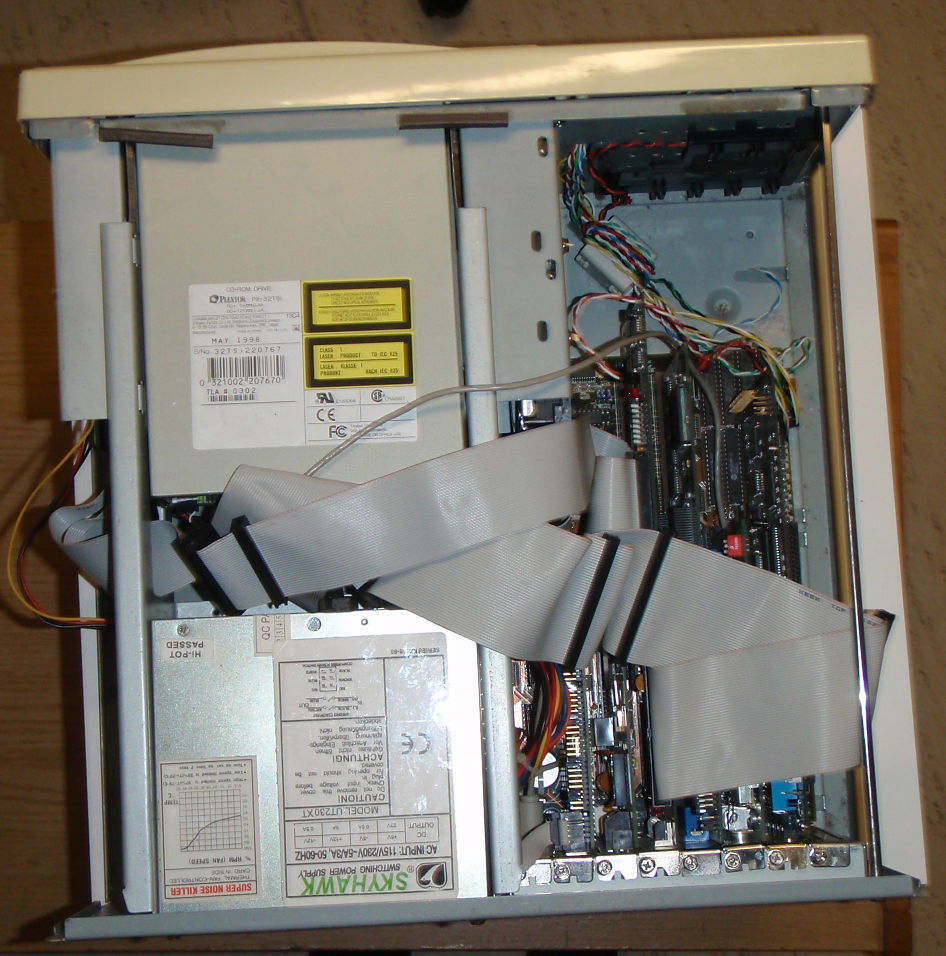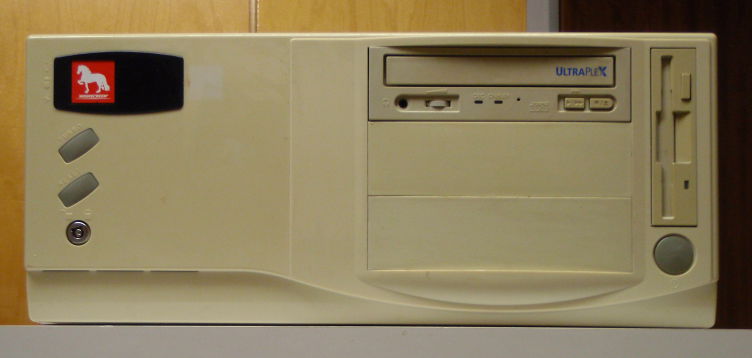 Pentium
Hardware:
Gigabyte GA-586TX3 mainboard, 512 KByte L2 cache (WB), PS/2 mouse connector
Intel Pentium MMX 200
64 MByte SDRAM
PCI cards:

Matrox Mystique with Rainbow Runner Studio addon
Adaptec 2940UW SCSI
3Com 3C905 NIC

ISA cards:

Miro PCM 10
Matrox Rainbow Runner TV

Drives:

20 GByte SCSI harddisk
Pioneer DVD-305S SCSI DVD reader (slot in!)
Yamaha CRW-8424S SCSI CD burner
3.5 inch floppy
Benchmarks:
PC Player Benchmark
Score: tbd
System Speed Test:
tbd
Pictures:
tbd
Commodore PC20-III
tbd
Schneider Tower AT 260
tbd
Schneider CPC 464
tbd